French elections: Battle over 1 May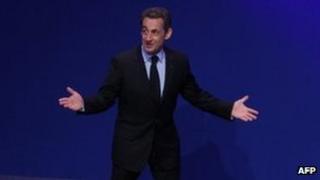 French President Nicolas Sarkozy's choice of words to describe his May Day rally has whipped up a storm of controversy.
He said his rally, as the race to the presidency reaches fever pitch, would be a showcase for "real work", angering the Left and the unions while suggesting that those who received state support did not understand the meaning of true work.
"A day for real work, for those who work hard, those at risk, those who suffer, those who no longer want it to be possible to earn more by not working, than by going to work," he said.
His opponent, Socialist candidate Francois Hollande, responded suggesting that the outgoing president would do better to make it an unemployment day, considering the levels of joblessness reached during his term of office.
Wartime slogan
But the sense of outrage in some quarters has come from the fact that those two simple words "vrai travail" - or "real work" have been compared with the wartime slogan of the chief of the Vichy state, Gen Philippe Petain, produced on a 1941 poster during the period of government collaboration with Nazi Germany.
The Communist daily L'Humanite published a picture of Mr Sarkozy side-by-side with Gen Petain on its front page and tweaked reproductions of the poster multiplied on the internet, Mr Sarkozy accused the paper of "stupidity" and denied he had actually used that phrase.
"I never said 'real work'. It is May day. I didn't realise that Francois Hollande had privatised the first of May," he said.
But the language is also part of a broader debate about laying claim to the powerful symbolism of the day.
May Day became a political battleground for French politics as soon as it was marked for the first time in 1892, according to French historian Danielle Tartakowsky, quoted in French newspaper Liberation.
It continued during wartime, when German-occupied France played a key role in industrial production. Instead of a day off work, workers merely downed tools briefly to listen to Gen Petain's speech.
Writing in Le Nouvel Observateur, French labour historian Stephane Sirot explains that more recent attempts to appropriate the day include the far-right National Front's decision, from 1988, to hold an annual 1 May rally.
The idea was to make the day a nationalistic display of patriotism by linking it to the powerful figure of Joan of Arc. But, Mr Sirot explains, her national day is actually 8 May, which coincides with the actual date of the end of the siege of Orleans in 1429.