Denmark profile - Leaders
19 June 2015

From the section

Europe
Queen: Margrethe II
Queen Margrethe became monarch only because a change in the law in 1953 allowed a woman to ascend to the throne. She succeeded on the death of her father, King Frederick IX, in 1972.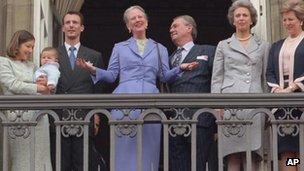 Danish monarchs have a significant formal role in the government of the country. They preside over the Council of State, which signs legislation into law, and consult party leaders on the formation of each new government. In practice, however, the Council always acts on the advice of the elected government, and parliamentary arithmetic decides the composition of the cabinet of ministers.
Queen Margarethe is a skilled artist, clothes designer and translator. She speaks English, French and German, in addition to her native Danish, and her work as an illustrator has been widely published.
Born in 1940, she is married to a former French diplomat, now Prince Henrik, and has two sons. The 40th anniversary of her accession to the throne saw generous public expressions of affection for the highly-popular queen.
Prime Minister (out-going): Helle Thorning-Schmidt
Helle Thorning-Schmidt became Denmark's first female head of government after her centre-left alliance secured a narrow majority at parliamentary elections in September 2011, ousting the the centre-right coalition of Lars Lokke Rasmussen.
Ms Thorning-Schmidt was a member of the European Parliament before taking over as leader of the Social Democrats in 2005. She led them to defeat in the 2007 election, having campaigned to relax immigration rules and oppose tax cuts.
Taxation and immigration remained controversial issues among the parties of Ms Thorning-Schmidt's coalition. She called a snap election for June 2015, hoping to capitalise on a rise in poll support for her Social Democratic Party and its economic record in office.
But a poor showing by other left-wing parties and a strong performance by right-wing populist Danish People's Party made a centre-right government most likely, and Ms Thorning-Schmidt resigned as Social Democrat leader.
Born in 1966, Helle Thorning-Schmidt studied political science in Denmark and Belgium before working as a Danish trade union consultant in Brussels.
She married Stephen Kinnock, the son of British Labour politicians Neil and Glenys Kinnock, in 1996. They have two daughters. Mr Kinnock was elected a Labour member of the British parliament in May 2015.
Ms Thorning-Schmidt is known in Denmark for her stylish dress sense, leading some papers to dub her "Gucci Helle". Less helpful was an official investigation into her tax affairs, in which she acknowledged having made a mistake in declaring Mr Kinnock a non-resident. The couple were cleared of wrongdoing.
Her government was weakened in early 2014 when the small Socialist People's Party left the coalition amid disagreements over plans to sell off a stake in the state utilities giant Dong Energy to Goldman Sachs, among others.