Spain profile - Leaders
26 May 2015

From the section

Europe
Head of state: King Felipe VI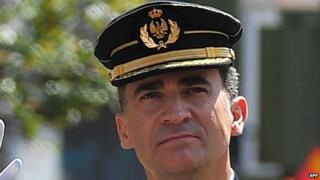 King Felipe succeeded to the throne on the abdication of his father Juan Carlos in June 2014. Born in 1968 when his father was heir-apparent to the vacant throne during the Franco dictatorship, Prince Felipe was educated for his future royal role, and undertook official engagements on behalf of the king from 1995.
Despite retaining considerable constitutional power as chief executive and commander-in-chief, King Felipe has pledged to continue his father's legacy of supporting the primacy of parliament.
King Juan Carlos won great public respect for the way he steered Spain to democracy after the death of General Franco in 1975, but the royal family's reputation was tarnished by a number of personal and financial scandals towards the end of his reign.
King Felipe, like his father, is a keen sailor and represented Spain at the Barcelona Olympics in 1992. He trained as a military pilot, has a degree in law, and studied diplomacy at Georgetown University. As heir to the throne he was active in promoting closer ties between Spanish-speaking countries, and has toured Latin America widely.
The King is married to Queen Letizia, a former journalist, and they have two daughters.
Prime minister: Mariano Rajoy
Mariano Rajoy became prime minister in December 2011 after his conservative Popular Party won a resounding victory in parliamentary elections.
The election campaign was dominated by Spain's deep debt crisis and sky-high unemployment, and the governing Socialists' defeat was widely expected.
Mr Rajoy, who has long been known as a cautious public administrator, warned the Spanish people that there is no miracle cure to restore the country to economic health.
The son of a lawyer, Mariano Rajoy grew up in a socially conservative Catholic environment, studied law and began his career as a land registrar.
He became a regional deputy for the Popular Party at the age of 26 and rose steadily through the party ranks.
He held a number of ministerial positions in the governments of Jose Maria Aznar from 1996 to 2004, and was rewarded for his loyalty and discipline when Mr Aznar chose him as his successor as party leader.
As leader of the opposition after the 2004 election, Mr Rajoy struggled to rebuild the party's fortunes.
His staying power finally paid dividends when the global economic downturn destroyed public faith in the Socialists' ability to steer the country through a period of deep crisis.
In office he has struggled to impose financial discipline, and had to turn to the European Union to bail out the banking sector in June 2012. Spain emerged from recession in late 2013, but unemployment remains high and has boosted the fortunes of Podemos, a new populist anti-austerity movement.
Podemos performed well in May 2015 regional and local elections, and hopes to deny Mr Rajoy victory at parliamentary polls later in the year.