French election: Centrist Bayrou backs Francois Hollande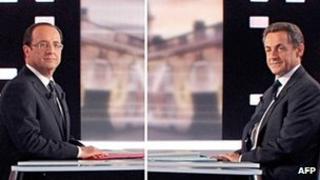 Centrist leader Francois Bayrou has announced his support for Socialist candidate Francois Hollande in Sunday's presidential election.
Mr Bayrou came fifth in the first round of voting, taking 9.1% of the vote.
If his supporters join him in voting for Mr Hollande, it would deal a significant blow to Nicholas Sarkozy's chances for re-election.
Although Mr Bayrou once served with the president in a right-wing cabinet, he says he has gone too far to the right.
He said he was "not making any voting recommendation", but accused Mr Sarkozy of abandoning European values and moving too close to the far-right position on immigration.
On the last day of major campaigning before Sunday's run-off vote, Mr Hollande is leading in opinion polls but President Sarkozy is inching towards him.
According to Reuters, in two polls conducted on Thursday the Socialist candidate's lead had narrowed to six points.
He told French radio that both the final stretch of campaigning and voter turnout could affect the result.
President Sarkozy said on Thursday that it would be a close-run contest and no French election had ever been so "undecided".
But the BBC's Hugh Schofield says that unless the polls turn out to be wrong, Nicolas Sarkozy looks set to be the first French president since Valery Giscard d'Estaing in 1981 not to win a second term.
'Beaten long ago'
The president has been courting the votes of the supporters of far-right leader Marine Le Pen, but she has already said she will be leaving her ballot blank rather than vote for Mr Sarkozy or his rival.
Ms Le Pen, who attracted 6.4 million votes, said on Thursday that the election was over as Mr Sarkozy was "beaten a long time ago".
The two rival candidates attended final mass rallies on Thursday in friendly territory: Mr Hollande in the south-western city of Toulouse and Mr Sarkozy in the southern port of Toulon.
The rallies follow a heated televised debate on Wednesday night, watched by an estimated 17.9 million people, in which Mr Hollande challenged the president on the economy.
He said France was going through a "serious crisis", but Mr Sarkozy defended his record and said he had kept France out of recession.
The rivals also attacked each other's policies on immigration. Mr Hollande said he supported France's ban on face-covering veils and would not allow separate hours in swimming pools for men and women.
The president criticised his challenger for backing the right for non-EU foreigners to vote in local elections.
Returning to the subject during a radio interview on Thursday, Mr Sarkozy said he had changed his own mind on the issue because of community tensions. He also repeated a phrase from the election debate, asserting that he wanted an "Islam of France, not an Islam in France".
'We will win'
The BBC's Gavin Hewitt says it was a long, bad-tempered debate that left the impression that neither candidate liked each other.
French media suggested that neither candidate had really landed a knock-out blow.
Speaking to France Inter radio on Thursday morning, Mr Hollande said there were "still some unknowns" that could affect Sunday's vote, namely the turnout and "the impact of these final days of the campaign".
"I'm fully aware that nothing is over, nothing has been won," he said.
Asked on RTL radio whether he had been surprised by Mr Hollande's combative approach during the debate, Mr Sarkozy said: "Don't think that I felt Mr Hollande was just gentle and kind."
Mr Sarkozy said he thought that the "result is open: never will an election have been so undecided". He also pointed to the enormous crowd that attended his 1 May rally at the Trocadero near the Eiffel Tower.
"I think that we can, that we will win," he said.