In quotes: World reacts to Hollande victory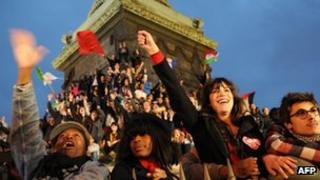 World leaders have welcomed the victory of France's President-elect, Francois Hollande, who will be the country's first Socialist head of state in 17 years.
US President Barack Obama invited Mr Hollande to meet him at the White House, ahead of the G8 Summit at Camp David and a Nato summit in Chicago later in May.
"President Obama indicated that he looks forward to working closely with Mr Hollande and his government on a range of shared economic and security challenges," a spokesman said in a statement.
German Foreign Minister Guido Westerwelle congratulated Mr Hollande on the "historic event" of his election.
"Europe's destiny certainly also depends on how close the German-French friendship is," he said.
"We Germans seek a very, very close relationship and we will also work closely with the new president
"Overcoming the debt crisis is a joint objective, a German-French objective. We have agreed on a fiscal treaty for less debt and we will now jointly draft a growth pact that will create more growth alongside greater competitiveness.
"We have no doubt that we will fulfil our joint task for Europe to be a stabilising factor, a motor for the European development also with the future French government."
Italian Prime Minister Mario Monti telephoned Mr Hollande and told him of "the desire of the Italian government, and my personal wish, to work closely with France, and Europe, to create an ever more efficient and growth-driven union".
In Spain, opposition Socialist leader Alfredo Perez Rubalcaba lauded Mr Hollande's win, calling it "a great victory for European leftists and a great result for Europe".
Spain "will have an ally in France to achieve a change in European economic policy", he added.
European Commission President Jose Manuel Barroso said: "I know that I can count on the convictions and the personal commitment of Francois Hollande to advance European integration."
Former EU Commissioner Lord Mandelson said that he expected Mr Hollande and German Chancellor Angela Merkel to mount a renewed push for greater EU integration.
"I think we are going to see the eurozone yet further challenged very seriously and I think that what you will see both from France and from Germany is a very united response," he said.