Turkey profile - Leaders
1 April 2015

From the section

Europe
President: Recep Tayyip Erdogan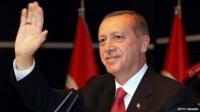 Recep Tayyip Erdogan was sworn in as president in August 2014, cementing his position as Turkey's most powerful leader.
His victory in Turkey's first popular presidential election capped more than a decade as prime minister in which the economy tripled in dollar terms and the country carved out a growing, though often controversial, role in the politics of the conflict-torn Middle East.
His inauguration as president advanced his drive to reshape the country but prompted fears among critics of increasingly authoritarian rule.
The ruling AK Party has promised that if it wins a general election due by June 2015 with a strong enough majority, it will amend the constitution to establish an executive presidency.
But opponents warn that Mr Erdogan's ambition to establish an executive presidential system would concentrate too much power in the hands of a leader with autocratic instincts and lead the EU candidate country ever further from the secular ideals of the republic's founder Mustafa Kemal Ataturk.
Stability
Mr Erdogan became prime minister in 2003. He brought economic and political stability to Turkey and faced down the country's powerful military establishment, which previously had a history of overthrowing elected governments that it saw as challenging either the secular constitution or national security.
Steady military pressure combined with negotiations also brought the Kurdish rebel PKK group to a truce that provided for a withdrawal of all PKK fighters to Iraq from May 2013.
Power struggle
In September 2010, his government won resounding public approval for its plans to change the 30-year-old constitution. The amendments to the constitution were aimed at reducing still further the power of the military and meeting the requirements for EU membership.
In the summer of 2013 Mr Erdogan began to look vulnerable for the first time as mass anti-government protests erupted in several cities, further inflamed by the violent police response.
A further threat to Mr Erdogan's continued rule emerged in December 2013, when police launched an inquiry into alleged corruption among the prime minister's allies.
However, he bounced back with success in both local and presidential elections in 2014.
Apparently prompted by a series of police corruption investigation into leading officials, a fierce power struggle erupted between Mr Erdogan and his erstwhile ally, the influential reclusive US-based Islamic preacher Fethullah Gulen.
Mr Erdogan accused Mr Gulen of running a "state within a state" and of using the cleric's allies in the police and judiciary to oust him with the help of corruption inquiries.