Vatican country profile - Overview
16 June 2015

From the section

Europe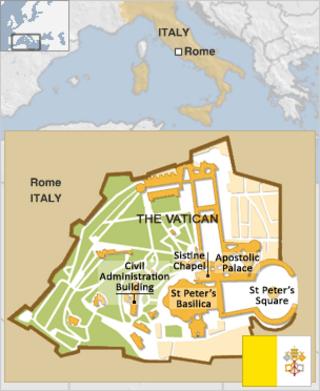 The Vatican is the smallest independent state in the world and residence of the spiritual leadership of the Roman Catholic Church.
Its territory is surrounded by the Italian capital city Rome, and priests and nuns of many nationalities make up almost all of the population.
The Vatican City is a tiny fragment when compared with the extensive Papal States of central Italy, which were conquered by the forces of Italian unification in the mid-19th century. The popes then became "prisoners in the Vatican", unwilling to leave the confines of the Apostolic Palace until 1929, when Italy's Fascist government negotiated the Lateran Treaty that created the current mini-state.
The current pope is Francis, the first Latin American to be elected to the post. Formerly archbishop of Buenos Aires, Jorge Mario Bergoglio was chosen to succeed Pope Benedict XVI, who reigned from 2005 until 2013, when he announced his resignation on grounds of old age.
Pope Benedict had continued the conservative clerical policies of his predecessor, John Paul II, but Francis has signalled a willingness to devolve power within the Church and to listen to critical voices.
John Paul II's 26-year reign saw tremendous upheaval in Eastern Europe, including his homeland Poland.
He preached dialogue and reconciliation between former political opponents and religions. During a visit to Israel - the first by a Pope - John Paul expressed sorrow for the history of anti-Semitism in the Catholic Church.
He also sought to heal rifts with other Christian churches. Some of these moves were successful, others less so.
But critics within and without the Catholic Church said Vatican social policy was out-of-step with modern reality.
They said Pope John Paul's strict teaching against abortion and contraception failed the majority of Catholics, and disqualified the church from any role in solving the social problems facing the developing world in particular. These questions will dominate the agenda of the Papacy for years to come.
Pilgrimage
The Vatican City itself packs many imposing buildings into its small area. These include St Peter's Basilica. Completed in the early 17th century, the domed edifice is a pilgrimage site. The Vatican Museums and Art Galleries house the priceless art collections of the popes.
On a more profane level, the Vatican has moved to meet international demands for more financial transparency following an investigation in 2010 into the Vatican Bank over violations of money-laundering rules.
It put in place laws that aimed to bring the Vatican Bank into line with international standards on transparency, prevention of terrorism, counterfeiting and fraud, but Bank chief Ettore Gotti Tedeschi nonetheless had to step down in 2012 for dereliction of duty. In 2013 Pope Francis ordered a new commission of inquiry into the Bank.