Serbia: Nikolic Progressive Party kept out of coalition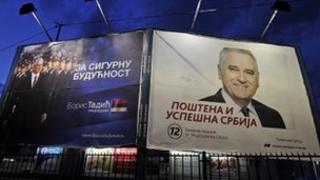 Serbia's opposition Progressive Party looks set to be kept out of government after the Socialists agreed to revive their coalition with the Democrats.
The Progressive Party (SNS) came first in Sunday's parliamentary vote.
The Socialists, who came third behind incumbent President Boris Tadic's Democrats, have also said they will back him in the presidential run-off.
SNS leader Tomislav Nikolic was narrowly beaten by Mr Tadic in the presidential first-round poll.
The second round takes place on 20 May.
'Taken over by crime'
News of the renewed alliance infuriated Mr Nikolic who said Boris Tadic would stop at nothing to remain in power.
"It is time for people to see who they are dealing with," he was quoted as saying by Tanjug news agency. Serbia, he alleged, had been "taken over by crime".
Socialist leader Ivica Dacic, whose party doubled its representation in parliament, has been seen as a kingmaker in post-election negotiations.
With an expected 44 seats in the 250-seat parliament, former Interior Minister Mr Dacic is thought likely to seek the post of prime minister.
His party has been in coalition with incumbent President Tadic's Democrats for four years. Mr Tadic has been in power since 2004.
The Socialists were founded by former Yugoslav President Slobodan Milosevic, who was put on trial for genocide at The Hague, but they are now seen as pro-EU. Serbia won candidate status to join the EU in March.
"All issues... will be the subject of further talks after completion of the election for president of Serbia," a Democratic Party statement said.
Their coalition is not necessarily a done deal as, with a combined number of 111 MPs, the two parties would need extra support to reach a majority in the 250-seat parliament.