Polish MPs approve plans to raise retirement age to 67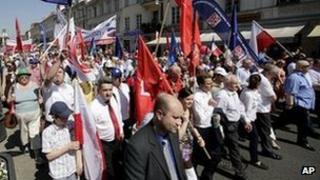 Poland's parliament has approved plans by the centre-right government to raise the age at which most Poles can retire to 67 years.
Under the new law, the retirement age will be gradually moved upwards, from the current age of 65 for men and 60 for women.
The government says the move will help Poles build up larger pensions and reduce state spending.
The plans have prompted protests from trade unions and the centre-left.
The 460-member lower house of parliament, the Sejm, passed the measure by 268 to 185 votes, with two abstentions.
Observers say it is almost certain to be endorsed by the upper chamber, the Senate.
The reform envisages that the retirement age will reach 67 for men by 2020, and for women by 2040.
But women will be able to take partial retirement at 62 if they have worked for 35 years, and men will be able to do so at 65 if they have worked for 40 years.
This exception was agreed to win support for the bill from the junior partner in the governing coalition, the Polish Peasant's Party,
Trade unions bitterly oppose the change and have threatened to organise strikes during the European football championships being held in Poland in June.
The lifting of the retirement age is part of a series of tough reforms announced by the government of Prime Minister Donald Tusk after its re-election last year.
Along with raising the pension age, they include phasing out special pension arrangements for farmers, miners, policemen, firemen and priests.
The government also hopes to reduce the budget deficit to just 1% by the end of the current parliament in 2015.