Customs find illegal oil laundering plants in Dundalk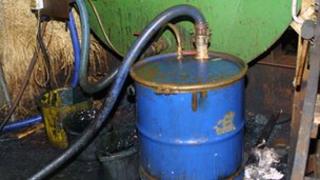 Irish customs officers have uncovered two illegal oil laundering plants in Dundalk.
One was concealed in a shed and the other in a 40 ft container on commercial premises in Rathmore.
They had the capacity to launder four million litres of fuel per year with a potential loss of two million euros revenue to the Exchequer.
An oil tanker containing 19,000 litres of smuggled fuel, was seized on the M1 in a separate operation.
At the plant in Dundalk, customs officers also found four lorries, a jeep, 18,000 litres of marked mineral oil, a tanker containing 6,000 litres of laundered fuel, a 40 ft trailer with concealed tank for the transport of fuel, bleaching earth and ancillary equipment were seized.
In a separate operation in Dublin, officers seized 248,000 cigarettes, with an estimated retail value of 116,000 euros.
Tobacco was also seized along with a small quantity of herbal cannabis.
The cigarettes, tobacco and drugs were located mainly in a discreet lock-up facility in Dublin's north inner city.
A man in his 20s was arrested.