Defiant Mladic before war crimes court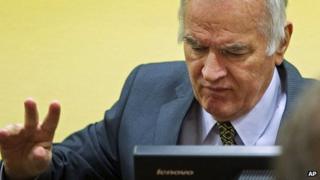 General Mladic gestured to the public gallery as the prosecution opened its case against him - a slow sarcastic handclap and a thumbs up toward the benches where victims of Bosnia's war had gathered to watch the long-awaited trial finally begin.
Later, he quickly drew his finger across his throat in a gesture apparently aimed at someone in the gallery he had made eye contact with. It seemed more dismissively contemptuous than threatening.
But it was clear that while his physical stature seems diminished - at 70 he is no longer the confident, swaggering war leader he was 20 years ago - he is as defiant as ever, still proud in the role he played in a war that, as he sees it, he fought purely to defend the Serbian people.
Chilling detail
The prosecution laid out in chilling detail its version of the war.
It was, it alleged, from the start a huge criminal enterprise aimed at separating Bosnia's intermingled ethnic groups by forcibly expelling non-Serbs from parts of the country where they had lived alongside their Serb neighbours for generations.
Hundreds of thousands were expelled from swathes of Bosnian territory in the north and east, in order to create a single contiguous territorial entity on which to build a separate state for the Bosnian Serb people.
In the course of this campaign, the prosecution alleged, cities and towns, including Sarajevo, were besieged and bombarded.
Snipers targeted civilians at close range, not for military purposes but to sow terror. Elsewhere, Muslim men were herded into detention camps and women were raped. Many were casually murdered.
'Well-rehearsed in murder'
By the time Gen Mladic's men had seized Srebrenica, the prosecution said, they were "well-rehearsed in the craft of murder". There, they killed 7,000 Muslim men and boys.
The prosecution has one more day to lay out its case. On Thursday, it will devote itself to Srebrenica, the atrocity that finally tipped the international community into action to stop the war.
Gen Mladic denies all the charges, and seems determined to fight to clear his name.
He seemed fitter and more alert in court than he did when he first appeared here last year. He listened carefully throughout, took notes occasionally and at one point appeared to suppress a laugh.
He has said throughout that he fought only to defend the Serbs against enemies that had represented a mortal threat to them before in the 20th century, and, by declaring independence from Yugoslavia, represented such a threat again in 1992.
After Thursday, the court will adjourn for many months while Gen Mladic and his legal team prepare to answer the allegations against him.