Defence plant man jailed for spying in Russia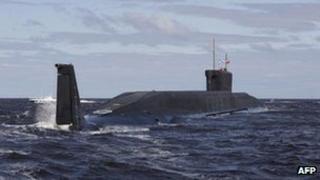 A court in the Urals has jailed an employee of a Russian defence plant for espionage, in a case said to involve submarine-based nuclear missiles.
The court in Yekaterinburg sentenced Alexander Gniteyev to eight years in a high-security prison, without giving details of his crime.
Russian media say the man was arrested for passing information on the Bulava missile to an unnamed foreign power.
The Bulava is designed as a key part of Russia's nuclear deterrent.
It suffered a string of failures during its development, but recent launches are said to have been successful and it is due to be commissioned later this year.
Gniteyev, who was convicted of treason in the form of espionage, worked at a secret state company producing automatic control systems.
It was not immediately known how he had pleaded at his trial.