Italy bomb: Man detained as Melissa Bassi funeral held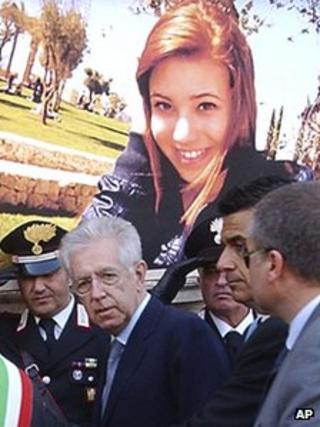 Italian PM Mario Monti has joined thousands of people paying their last respects to bomb victim Melissa Bassi, as a man was held for questioning.
The 16-year-old was in a group caught up in the blast outside a school on Saturday. Five others were wounded.
Prosecutors in the southern city of Brindisi say a man is being questioned "to see if he has an alibi".
CCTV footage of the main suspect has been released. The film apparently shows the man detonating the explosion.
Police were looking for a man who had recently disappeared and, after searching his home, took his brother in for questioning, Italian media said.
But the authorities would not be drawn on the significance of the arrest.
'No certainties'
Chief prosecutor Marco Dinapoli on Sunday described the bombing, involving three gas canisters, as "most probably... an isolated act".
Justice Minister Paola Severino said nothing was being ruled out.
"There are no certainties," she told a news conference in Brindisi on Monday.
One of the possibilities is that the bomb was set off by a lone attacker.
Mafia links to the crime are also being investigated. An organised crime group active in the region, Sacra Corona Unita (United Sacred Crown), has condemned the attack.
Mr Monti decided to cut short his visit to the Nato summit in Chicago after Saturday's bombing outside Morvillo Falcone vocational school in Mesagne, close to Brindisi, and the earthquake in northern Italy in the early hours of Sunday morning.
He was among hundreds of people crowded into the Mesagne church as thousands more stood outside.
During the funeral, Melissa Bassi's parents expressed hope that her friend Veronica, who was seriously hurt in the bombing, would return soon "to the love of her parents", news agency Agi reported.
After the service, the victim's white coffin was brought out of the church, followed by her father, Massimo Bassi.