Why Cameron is backing closer European integration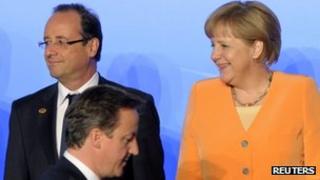 We live in strange times. After one of the many European summits last year I can recall the British prime minister being asked whether he was a "Eurosceptic". After searching for some context, he indeed confirmed he was a Eurosceptic.
Now David Cameron has emerged as the champion for much closer integration of the eurozone. From the touch line he urges the European Central Bank to act as lender of last resort.
He, like his chancellor, believes that the "remorseless" logic of monetary union is "fiscal union" with taxes and spending agreed at a European level. He wants a bigger European rescue fund (firewall) and for banks to be re-capitalised.
The French believe he is an ally of Francois Hollande who is proposing euro-bonds where eurozone debt is pooled, with richer nations standing behind the debts of the struggling countries.
All of this would involve a greater "pooling" of sovereignty in Europe.
Recovery first
It is widely accepted that fiscal union is not sustainable without political union.
That is certainly the view and the ambition of the German Finance Minister, Wolfgang Schaeuble.
He wants political union, a common financial policy and an elected president in Brussels presiding over a central government.
Others recognise that decisions over tax and spending with their direct impact on voters' lives will need greater democratic accountability.
The motivation behind Mr Cameron's intervention is clear: the eurozone crisis is holding back economic recovery in Britain and, as a consequence, puts at risk his political future.
So he urges Europe's leaders to embark on a road he would never recommend to the British public.
Of course if the eurozone edges further towards fiscal union - as seems likely - then more power will inevitably shift to Brussels.
In those circumstances, there will be a stronger core within the European Union.
Inevitably, the countries in the closer economic union will want greater control, for example, over the financial sector with direct impact on Britain.
It will only underline the key political question for Britain: does the UK want to stay in the EU but in the outer circle, does it want to free itself from the EU's embrace or will it select to join a more integrated Europe?
The longer the eurozone crisis goes on, the more unavoidable those questions become.
Left behind?
Recently in his Hands lecture in Oxford, the former Labour Minister and EU Commissioner, Lord Mandelson, said that a "genuine political union" would need a "clear mandate".
He went on to explain the challenge facing the UK.
"Europe," he said, "may be about to ask us to choose.
"For three decades we have had the freedom to define the European project on our own terms, even in the knowledge that others in Europe had their own version.
"We have pursued a strategy of width over depth that has sustained a concept of integration in Europe within our political comfort zone.
"That strategy may now be defunct. If we choose to stay outside this core - and because we will not join the euro any time soon, then we must - then a part of Europe will have started a clear political journey without us."
Now it might be that the British public chooses not to go along on that journey.
Indeed there is little evidence that the public across Europe wants political union - but the urging of greater fiscal union surely brings closer the day when the British will want to debate their future in a changed Europe.