Breivik trial: Utoeya survivor describes wait in lake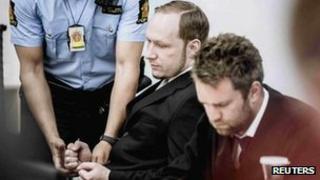 A young man shot on the Norwegian island of Utoeya has told the trial of Anders Behring Breivik in Oslo how he waited in the water to be rescued.
After suffering a superficial bullet wound in the back, Espen Myklebust swam out to a boat which was already full of panicking youths.
He was given a life jacket and a friend held on to him until police arrived.
Breivik is on trial for the murder of 69 people on Utoeya, and eight in Oslo, on 22 July last year.
If he is convicted and the court decides he is criminally insane, the 33-year-old Norwegian will be committed to psychiatric care.
If he is judged to be mentally stable, he will be jailed.
Breivik admits the attacks, arguing they were necessary to end multiculturalism and prevent a "Muslim invasion" of Norway and Europe.
'Calm as can be'
Mr Myklebust, 18, told the Oslo district court on the 22nd day of the trial that he had heard shots, but thought they were part of "a crazy drill".
But when he saw people running in panic, he flung himself into the icy cold water around the small island.
As he waited in his life jacket, he could still see bullets hitting the water, and after police rescued them in another boat, he spotted "many dead bodies" in the water.
He described Breivik as "calm as a human being can be".
"He walked around as if nothing had happened," Mr Myklebust told the court.
He said he had assumed Breivik was a neo-Nazi because of his fair hair and the fact that he had attacked a Labour party youth camp.
Since the attack, he said he had had difficulty doing schoolwork.
Four other Utoeya survivors also gave their accounts of the massacre on Tuesday: Viljar Hanssen, Cathrine Troennes Lie and a young woman who did not wish to be named, all 18; and Eirin Kristin Kjaer, 20.
Ms Troennes Lie told the court about the last time she had seen her 16-year-old sister before Breivik shot and killed her.
She lost consciousness due to her own wounds, and has undergone seven operations since the massacre.
"I attend school, but only to try to be social," she said, her words reported by Norwegian journalist Trygve Sorvaag on Twitter . "I have lost a lot of my will."
Breivik reportedly showed little sign of emotion in court.