Irish Times opinion poll on EU fiscal treaty suggests yes vote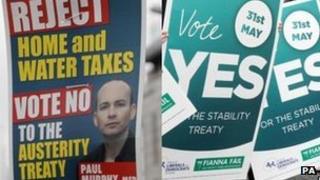 One of the final opinion polls ahead of Ireland's referendum next week on whether to ratify the EU fiscal treaty suggests it is likely to be a 'yes' vote.
When the undecided voters are excluded, the result of the poll for the Irish Times was: 57% Yes and 43% No.
The poll indicated almost a third of voters have yet to make up their minds, or have decided not to vote.
The referendum will be held on Thursday of next week.
The three largest parties in the Irish Parliament support the treaty, and the Irish government has warned people that the country's economic recovery would be jeopardised if the treaty is rejected.
The campaign against it is being led by Sinn Fein and its leader Gerry Adams. Recent polls suggest the party's support in Ireland doubled since last year's general election and is now at more than 20%.
European leaders say the treaty will lead to financial stability in Ireland - and across the Eurozone.
But Sinn Fein and a number of other left-wing parties say it will simply mean more austerity in Ireland, and other parts of Europe.
Ireland was forced to seek an international bail-out in 2010 following the spectacular collapse of its Celtic Tiger economy.
A series of spending cuts and tax rises have been imposed on the country as the government tries to restore stability to the public finances.
The new EU fiscal treaty will force countries in the Eurozone to abide by strict new budget rules, or face sanctions.
The treaty was drawn up in response to the debt crisis.
The aim is to strengthen fiscal discipline and toughen the enforcement of EU budget guidelines.
The new measures come into effect once 12 EU states have ratified the treaty.
When it comes to rejecting European treaties, Ireland has a long track record.
Both the Nice Treaty (2001) and Lisbon Treaty (2008) referendums were lost, forcing the governments of the day into the embarrassing position of having to re-run the votes to get them passed.
However, that is unlikely to happen again.
Unlike Lisbon and Nice, an Irish 'no' does not scupper the entire treaty.