Dublin High Court to rule on fiscal treaty comments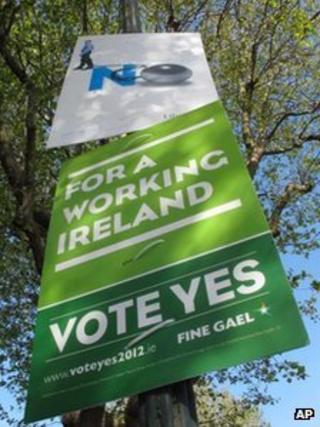 The High Court in Dublin is to rule later on an application by a Sinn Fein TD for the Referendum Commission to withdraw statements made during the fiscal treaty campaign.
The referendum on whether to ratify the EU treaty is to take place on Thursday.
On Tuesday, the court refused the initial section of the application by Pearse Doherty.
Mr Doherty said he was challenging the conduct of the Referendum Commission over comments made earlier this month.
He is not challenging the holding of the referendum.
The statements, relating to the European Stability Mechanism (ESM), were made on 3 May and 18 May.
Mr Doherty's senior counsel, Richard Humphreys, said the first statement got a lot of attention in the media, gave prominence to the Yes argument and the words used gave the impression Ireland could not veto the ESM.
Mr Humphreys said the statement was not accurate.
He said a second statement by the commission indicated it was still open to Ireland to use the veto.
Michael Collins, Senior Counsel for the Referendum Commission, said the application was "flawed and misconceived".
He said there was "no inconsistency" between the two statements and there was nothing wrong with the first statement.
Mr Collins also said that Mr Doherty had waited until the eve of the broadcast moratorium, which starts later on Wednesday, to bring his application although the first statement was made on 3 May.
The High Court held a full hearing until midnight on Tuesday on the second aspect of the application.
Mr Justice Gerard Hogan said that given the importance of the action and the time constraints, he would give his decision at about 10.30 BST on Wednesday.