Kosovo profile - Leaders
11 November 2014

From the section

Europe
President: Atifete Jahjaga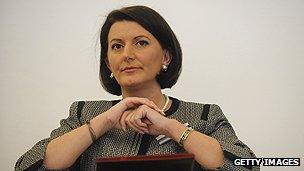 Atifete Jahjaga, was elected Kosovo's first female president by parliament in April 2011, after her predecessor, the Swiss-Kosovan tycoon Behgjet Pacolli, stepped down only two months into his term after the constitutional court ruled his election unlawful.
Ms Jahjaga, a senior police officer, was chosen as an interim compromise candidate between the governing coalition and main opposition party until parliament reaches agreement on direct popular elections for the presidency.
The constitutional court had ruled that the February election was invalid as an opposition walkout had rendered parliament short of a quorum.
Outgoing prime minister: Hashim Thaci
Hashim Thaci is a veteran of the Kosovar Albanians' drive to break away from Serbia.
He began agitating for the Kosovo cause while still in his teens, and first came to prominence as the political leader of the Kosovo Liberation Army (KLA), the guerrilla group that took up arms against Serb forces in the late 1990s.
He became known outside Kosovo when he formed part of the Kosovar Albanian negotiating team at internationally-sponsored peace talks at Rambouillet, France, early in 1999.
He made such a powerful impression at the talks that he succeeded in sidelining veteran leader Ibrahim Rugova, who was more in favour of passive resistance to Serbia, and was appointed leader of the Kosovar Albanian negotiating team.
After the talks broke down and NATO launched its air campaign against Serbia that resulted in Kosovo becoming a UN protectorate, Mr Rugova reasserted his authority within the province and officially became president in 2002.
Meanwhile, Mr Thaci underwent a gradual process of transformation from left-wing guerrilla to mainstream political leader. His Democratic Party of Kosovo (PDK) emerged out of the KLA and finally won an election in November 2007.
The governing coalition collapsed in October 2010 when the junior partner, the Democratic League of Kosovo (LDK), withdrew. At snap elections in December the PDK emerged as the winner only a few points ahead of its main rival and former coalition partner, the LDK. In February 2011 Mr Thaci formed a new coalition with several small parties.
Hasim Thaci was born in 1968 in the Drenica region, a stronghold of the Albanian revolt against Serbia.
He was a student activist in 1989-91, and later went underground to join the KLA, which was formed in 1993. It was at that time that he acquired the nom de guerre "The Snake" because of his success in evading capture.
In 2010, a Council of Europe report alleged that close associates of Mr Thaci in the KLA were involved in organ trafficking and other crimes after the 1999 conflict with Serbia. Mr Thaci strongly denies any involvement in the alleged crimes.
Parliamentary elections in Kosovo in June 2014 produced an inconclusive result. Mr Thaci's PDK emerged as the biggest party with 30 percent of votes, but by early November, no political grouping had yet succeeded in forming a viable governing coalition.