Mick Wallace admits he under-declared VAT to the State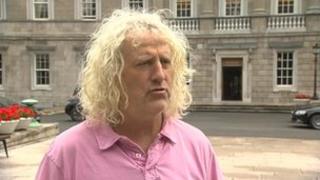 An Irish member of parliament, known for his shaggy hairstyle and pink shirts, could face criminal proceedings after admitting he broke the law.
Mick Wallace, and Independent TD for Wexford, admitted that he under-declared VAT payments owed by his construction firm M&J Wallace Ltd to the Revenue Commissioners.
Mr Wallace owes the State 2.1m euros, but admitted it was unlikely he could repay the debt as his firm is insolvent.
He has also said that he knew his actions were illegal, but he thought they were the "right thing to do", as he sought to keep his struggling firm afloat and intended to pay the money back at a later date.
The politician now faces censure in the Dáil, the Irish Parliament, but has insisted he will not resign his seat.
Mr Wallace is intending to travel to Poland today to support the Irish football team in the European Championships.