Protests as Eucharistic Congress begins in Ireland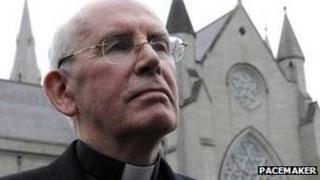 The opening of a Catholic Church festival in Ireland has been marked by protests from victims of child sex abuse and gay rights campaigners.
The 50th International Eucharistic Congress - an eight-day festival of faith and prayer - opened in Dublin on Sunday.
John Kelly from Survivors of Child Abuse (SOCA) was among the protesters.
He said the Catholic Church in Ireland was "simply just melting around us" and "must reform root and branch".
The Irish Independent reported that just over half of the 20,000 people who were expected to attend the opening ceremony at the Royal Dublin Society (RDS) turned up.
Mr Kelly told BBC Radio Ulster that many of pilgrims had thanked the protesters and agreed that the Church had to change.
"We heard yesterday the bishops and cardinals talking about renewal. To renew something you have to change something - and nothing has actually changed," he said.
The Catholic Church in Ireland has been rocked in recent years by a series of damning public inquiries into the handling of child sex abuse cases in religious institutions and by paedophile priests.
The leader of the Irish Church, Cardinal Sean Brady, faced calls to resign following fresh revelations about his handling of the Fr Brendan Smyth abuse case.
A BBC documentary revealed that a young victim of Smyth gave the then Fr Brady the names and addresses of other children who were at risk of abuse, but he failed to tell police and parents.
Prior to the congress, Dr Brady said his decision to remain in his post would not overshadow the event.
The Eucharistic Congress is an international gathering of Catholics and usually takes place somewhere in the world every four years.
The last such event in Ireland took place in 1932.