Rescuing Spain: To bail out or not bail out?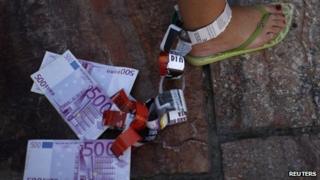 Just under a week ago, Spain's finance minister Cristobal Montoro said that "the men in black" would not be coming to Spain.
He meant that Spain would not seek a bailout from the eurozone, and his use of the phrase "men in black" was a reference to officials from the so-called Troika of the European Union, European Central Bank and International Monetary Fund.
Of course, Spain did ask for assistance from the eurozone during an unusual conference call of eurozone finance ministers on Saturday afternoon.
Ever since, the government has been stressing that Spain's rescue deal is very different to those of Greece, Portugal and Ireland.
Words matter
It says it has been handed a "line of credit" or a "favourable loan".
But many of the Spanish papers use the word "rescate" which translates as "rescue", or in this context "bailout".
In a press conference on Sunday lunchtime, the Spanish Prime Minister, Mariano Rajoy, said he did not want to get drawn into "an argument over words".
To a certain extent, the prime minister has a point.
Whether we call the 100bn euros (£80bn) that the eurozone has put at Spain's disposal a credit line or a bailout is, to a certain extent, a false debate. Both terms are technically correct.
However, words reflect the politics - which are inextricably linked to Spain's decision.
Spain does not want the same loss of sovereignty as those other three eurozone nations that have already been bailed out.
The language used therefore reflects the degree to which Spanish policy will be guided, scrutinised or even forced by officials from those three international bodies - "the men in black'"
'Watching closely'
On Monday, European Commission Vice-President, Joaquin Almunia, said that "whomever gives money, never gives it for free".
What he meant was that Spain's deal will carry conditions.
What is clear is that, as a result of this deal, the Spanish government will have to make further reforms of its financial sector.
In return for eurozone money, troubled Spanish banks will have to make concessions.
In this area of Spanish policy, the Troika, or at least the EU, will have a direct say.
The Spanish government insists that other areas of economic policy will not be affected.
Madrid claims officials from the European Union or IMF will not tell Spain how it should tax and spend.
But the details are still being worked out and Professor Pedro Schwartz, an economist at Madrid's San Pablo University, believes the Troika will be "watching closely".
"They will say things and the government will be forced by the Troika, or the markets, to make reforms," he said.
Prof Schwartz believes Spain will be under pressure to privatise more state-owned companies and officials from the IMF and EU will be watching closely how it handles the debts of regional economies.
With regards to financial reforms, he thinks some of the smaller Spanish regional savings banks, known as cajas, will have to be closed down.
Will Spain's 'bailout' work?
Whether we call it a "bailout" or a "credit line", the most important question is whether Spain's rescue deal will work.
Most analysts in Spain believe it will give the government some breathing space.
It will clearly bring more stability to the financial sector.
What the government hopes is that it will force the banks to lend more to businesses, and that in turn will generate growth and much-needed employment.
However, Professor David Bach from Spain's IE business school believes the bailout does not solve the Spanish government's other big problem of how to balance its budget deficit, which was 8.9% of GDP last year.
Mr Rajoy warned voters on Sunday that, if his government had not made the economic reforms and cuts to public spending of the past five months, Spain would have seen a "full intervention".
That would mean a bailout with more conditions, like those given to Greece, Portugal and Ireland.
But Prof Bach argues that those reforms the Spanish government has already made, and the accompanying reduction in public expenditure, could ultimately jeopardise Spain's economic recovery.
"The fear is that, by trying to reduce that deficit, you make it impossible to re-establish growth."