Journey across crisis-hit Greece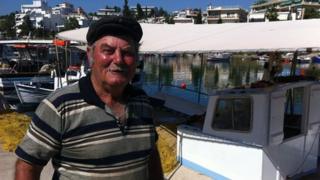 In Greece's port town of Chalkida, the fishing trawlers leave each day before dawn, making it back in time for the early morning market.
But business is tough, and the fishermen have a clear idea who is to blame.
"We should gather all the politicians together and throw them into the sea," says 79-year-old Yiannis, who has been casting his net here for decades.
"They all stole money and now we're starving - we don't have enough to eat."
Greece is sinking deeper into troubled waters.
The fifth consecutive year of recession is taking its toll and Chalkida - like so many towns - is buckling under the weight of the crisis.
Industry has all but died - a single remaining cement factory is winding down - and unemployment is soaring.
Austerity or bust
Anger against mismanagement of the economy has turned Chalkida's voters against the two big parties that have dominated Greek politics for the past four decades.
In last month's inconclusive election, the town switched support to the leftist party, Syriza. It wants to tear up Greece's international bailout agreement and halt the cost-cutting demands of Brussels.
But it also wants to keep Greece in the euro. EU leaders say the country cannot have both: If it deviates from the path of austerity, Greece risks forfeiting the loan money on which it depends.
Without the cash, Athens would be forced to default on its debt and may well have to leave the eurozone. That could spread contagion to other indebted nations, putting their own euro membership under question.
The whole ideological framework of the European project could start to unravel.
"By supporting parties like ours, Greeks voted last month to cancel the bailout," says Vangelis Apostolou, the Syriza candidate in Chalkida.
"The agreement doesn't lead us anywhere and places demands on our shoulders that we can't meet. We gave people here hope - we want Greece to keep the euro. It's following the same bailout policy that will lead us back to the drachma."
'Tell me lies'
But Chalkida is on the hit-list for New Democracy: the centre-right party that broadly supports Greece's bailout and says it is the only chance of saving the country's euro membership.
New Democracy won the election in May but with too few votes to form a government, leading to a re-run due in the next week.
The party's local candidate, Simos Kedikoglou, is confident of victory this time. But how does he explain Syriza's success here?
"I can answer with a song," he says, before breaking into a tune: "Tell me lies, tell me sweet little lies."
"Syriza is saying we can keep receiving the much-needed financial aid from Europe but not fulfil our obligations. Do you think we actually want to enforce tough measures because we like to see people in pain?" Mr Kedikoglou says.
He shrugs off his opponent's ideas.
"How can Syriza say they'll hire people in the public sector, increase salaries and pensions and not explain how they'll do it? When people are desperate, they can be easily tricked."
'Extremely dangerous'
The punishment for those in power was clear last month when the incumbent parties achieved their lowest score in decades.
But the question now is whether Greeks will feel that they have sent their message of protest, that they have shown their hatred of the status quo, and they are now willing to come back to the political mainstream for fear of leaving the euro.
Polls suggest 80% of Greeks want to keep the single currency. But a large majority are also opposed to the spending cuts.
Just how much more is this stretched nation willing to take to stay in the eurozone?
Small business owners like Costas Bazigos seem ready to stay the course, despite the pain.
A mechanical engineer by training, he now runs a company providing shipping supplies.
Mr Bazigos says business is down by 70%. He can last another year, but worries he may have to close after that if the situation does not improve.
"I voted Syriza back in May because I was sick to death of the others," he says.
"I voted out of sheer anger. And at the time, I was pleased with myself. But since then, I've had time to see what the party stands for.
"I think they're extremely dangerous - they will clearly take Greece out of the eurozone - and I can't stand for that. So I'm going to vote now for New Democracy."
If many others share his intention, it could swing the result back in favour of the centre-right.
'No hope for now'
But the pull of Syriza remains strong in this area, and across the country.
Polls show the two parties are neck-and-neck. Every eurozone capital will be watching what happens on Sunday in the most unpredictable election in decades.
In Chalkida the sun beats down on the old port and fisherman Dimitris Vazakas clears his net for the next outing.
He is weary of politics - but Syriza has managed to catch his vote.
"I want there to be a strong voice against all of these cuts," he says.
"Life is so tough. I want to keep the euro - we would have chaos without it - but there is nobody else but Syriza. With the cuts, we have no future. There is no hope here for now."