Women's Aid records 25% rise in child abuse reports in Ireland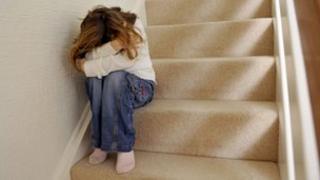 An Irish charity has received more than 2,000 reports of child abuse in homes where mothers were also abused.
Women's Aid said the 2011 figure showed a 25% increase from the previous year.
The charity recorded 2,076 disclosures of "emotional, physical and sexual abuse of children" during calls to its domestic abuse help line last year.
The director of Women's Aid, Margaret Martin, said: "Domestic violence remains a serious problem in Irish society."
She added that sometimes perpetrators "deliberately target children" as a way to hurt both them and their mother.
Rape
"Women have told us that their children were being hit, smacked, constantly shouted at, and in some cases, sexually abused.
"Many children will witness their mother being shouted at, threatened, physically assaulted and at times will see their mother being raped," Ms Martin said.
In total, Women's Aid recorded 13,504 incidents of physical, emotional, sexual and financial abuse in the Republic of Ireland in its 2011 annual report .
The vast majority (97%) of the callers to its help line were female and 3% were male.
Of that total, there were 12,612 incidents of domestic violence, 8,399 disclosures of emotional abuse, and 477 disclosures of sexual abuse.
The help line received 184 reports of rape within relationships.
'Heart-breaking'
Ms Martin also said that in a number of cases, abuse had continued even after the end of a relationship, with many women reporting that former partners were using access visits to abuse both them and children.
"It is heart-breaking to listen to women who, with their children, are living in a constant state of fear," she said.
Women's Aid also received 1,399 calls from people who said they were suffering financial abuse.
The charity said such callers had been denied access to employment or income and were forced to beg their abuser for money to meet the daily needs of their household.
Some had been forced to take out loans, sign properties over to their abuser, while others reported that their partners had withheld maintenance and lied about their income in court.
Following the calls, the charity provided 455 one-to-one support visits and accompanied 142 victims to court.