Bosnian Serbs given long Srebrenica jail terms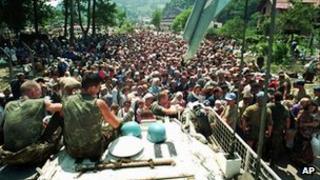 Four Bosnian Serbs have been sentenced to a total of 142 years in prison for their role in the Srebrenica massacre.
Bosnia's war crimes court sentenced Franc Kos and Zoran Goronja to 40 years in jail, Stanko Kojic to 43 years and Vlastimir Golijan to 19 years.
Between them they killed some 800 Muslim Bosniaks over the course of five hours on one day in 1995.
The Srebrenica massacre that year was the worst atrocity in Europe since the end of World War II.
More than 8,000 Bosniak men and boys from Srebrenica were killed after the town was overrun by Bosnian Serb forces in July of that year.
'Crime against humanity'
The judge said that the killings had taken taken place between 10:00 and 16:00 on 16 July 1995, and that the soldiers - who served with the Bosnian Serb army's 10th Commando Unit - had stopped for lunch during the killings.
Their unit was founded by former Bosnian Serb army chief Ratko Mladic, currently on trial for genocide at the International Criminal Tribunal for the former Yugoslavia in The Hague.
The jail terms given to the four soldiers for crimes against humanity were the longest ever handed down by the Bosnian war crimes court, Reuters reports.
All were acquitted of genocide charges, as there was insufficient evidence about intent.
In his verdict, judge Mira Smajlovic said that the men and boys killed by the four ranged in age from 16 years of age to over 80.
"The panel of judges has established that the accused committed a crime against humanity," Mr Smajlovic said.
One of those who took part in the killings - Vlastimir Golijan - was under 21 at the time of the massacre.
The man given the longest sentence - Stanko Kojic - had boasted to the others about the number of people he had killed, the judge said.