Explosives found at Sweden nuclear site in Ringhals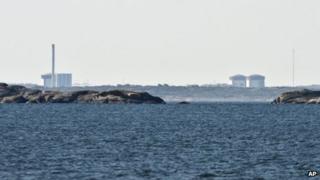 Security at Sweden's nuclear power stations has been tightened after explosive material was found on a truck near the largest plant in the country.
A routine vehicle check carried-out at the Ringhals power plant uncovered a fist-sized lump underneath the truck.
Police said initial results from forensic inspections confirmed the material was explosive.
Security has been tightened at all nuclear power plants by one notch, to the second-lowest level, police said.
There was no detonating device with the explosives and the company which runs the plant, Vattenfall, said the material could not have caused major damage.
No arrests have been made so far but police have opened an inquiry into the possibility of sabotage, they said in a statement.
The Ringhals power station consists of four reactors in southern Sweden, near Gothenburg.
It is the largest nuclear power station in Sweden, which relies on the source for about 50% of its electricity.