German politicians agree on EU fiscal treaty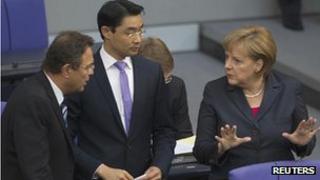 Germany's ruling coalition has reached a deal with the opposition enabling the EU's new budget treaty to be ratified by the German parliament next week.
The deal with the centre-left opposition Social Democrats (SPD) and Greens followed weeks of negotiations.
Chancellor Angela Merkel has been a key player in getting the EU to sign up to the fiscal compact, which would punish reckless accumulation of debts.
All 27 EU states apart from the UK and Czech Republic accept the pact.
It is due to take effect in January 2013. The aim is to compel eurozone countries to respect budget rules and avoid incurring debts like those undermining the euro now.
Under Thursday's deal, the German opposition also approved the European Stability Mechanism (ESM), the EU's new, permanent 500bn-euro (£404bn; $635bn) bailout fund, due to be launched next month.
Ms Merkel needs a two-thirds majority in parliament to pass such laws - that is why she had to get a deal with the opposition.
Germany will account for 27% of contributions to the ESM, paying out 21.7bn euros in cash and providing guarantees worth a further 168.3bn euros.
The far-left Linke party says it will challenge the pact in the German Constitutional Court, which has already told Ms Merkel to give parliament a bigger say on EU bailout issues.
Under the deal, the SPD got a commitment from the government to push for a European financial transaction tax - something that the UK government staunchly opposes.
SPD parliamentary leader Frank-Walter Steinmeier said that if agreement on such a tax proved impossible with all 27 EU states, then "we will form a 'coalition of the willing' of at least nine states".
Under the EU "enhanced co-operation" rule a minimum of nine countries can forge ahead with a policy even if it is not backed by all 27.