Turkey talks tough over Syria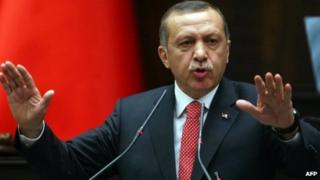 Turkey's prime minister has told parliament that Syria is a "clear threat" to both its own people and to Turkey, days after a Turkish fighter jet was downed. But to what extent will Ankara's approach to its neighbour really change?
In today's Turkey the final word always belongs to Prime Minister Recep Tayyip Erdogan.
He stayed uncharacteristically silent in the days following the incident, but has now delivered a speech to his party in parliament, which will probably shape Turkish policy towards Syria from now on.
Mr Erdogan aimed at several targets in his speech.
The first was to win as much international support as possible for the official Turkish account of the incident.
He restated that view: that the F-4 Phantom was unarmed, clearly identifiable, and, after briefly entering Syrian air space, was back in international air space when it was shot down without warning.
Nobody can use such a brief incursion as justification for shooting down a plane, he said.
Turkey has mustered all the data it has from the plane's flight, and used it to convince its allies of its case.
'New phase'
Britain and the United States have expressed support for the Turkish position, and, after an extraordinary meeting on the incident in Brussels, so has Nato.
Syria has continued to contest the Turkish account, insisting that the aircraft was flying low and fast, close to the Syrian coast, when they fired at it.
A Syrian foreign ministry official said the plane was hit by land-based anti-aircraft guns with a range of only one to two kilometres, not by a missile, to back its assertion that it was well within Syrian air space.
Mr Erdogan also needed to look strong to his own people, given the fact that Turkey has no way of making good its threat to "punish" Syria.
Military retaliation is too risky. It has not been mentioned at all by Turkey, and has been dismissed as inappropriate by its allies.
Instead the prime minister resorted to some tough-sounding, feel-good rhetoric. No-one should be fooled by our cool-headed and reasonable response to this crisis, he said.
Our friendship is powerful, but so is our anger.
He described the government of Bashar al-Assad as a clear threat now not just to the Syrian people but also to Turkey, and warned that relations have entered a new phase.
'Harsh words'
From now on, he warned, any Syrian forces approaching the border would be treated as hostile and may be targeted by the Turkish military.
Mr Erdogan has clearly been stung by the small but increasing number of critics here of his foreign policy, and he fired back at them with a sweeping justification for his government's approach to the region.
Referring back to 1,000 years of Ottoman history, he said Turkey's security was tied up with that of the wider region.
We have no territorial ambitions in neighbouring countries, he said, but we will always raise our voice on behalf of brothers whose blood is being shed - we will be a torment for those who hurt the innocent. No-one should fear a stronger Turkey that is re-embracing its historic friends.
There were particularly harsh words for those Turkish writers who have questioned what the F4 jet was doing so close to the sensitive Syrian border.
No-one, he said, could take the luxury of making statements that would damage the Turkish government or state at this time - the Turkish people would punish them.
He repeated the official explanation that the plane was testing Turkish radar systems and carrying out routine surveillance of the eastern Mediterranean, which he said was a sovereign right.
That last attack will not go down well with those who already charge Mr Erdogan of intolerance of any criticism. And questions surrounding the precise mission of the downed F-4 will not go away.
Cautious
There will also be some doubts over how much Turkish policy will really change towards Syria.
Mr Erdogan has used dramatic language to condemn President Assad many times in the past, but Turkish policy has remained cautious. It hosts the Syrian National Council, and some commanders of the Free Syrian Army.
But it has until now blocked or restricted arms supplies to Syrian insurgents over its border, and banned attacks on Syrian forces from Turkish territory.
It is possible Turkey will now give greater backing to the armed opposition.
Already the prime minister's foreign policy adviser has stated that the rules of engagement for Turkish troops towards their Syrian counterparts have been changed.