Twitter helps reunite Patch the dog with his owner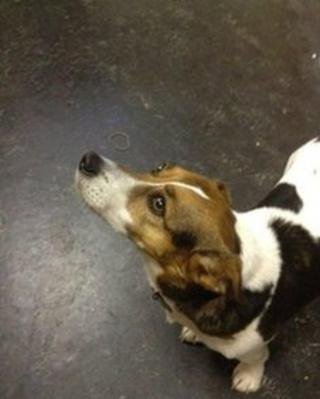 A dog's adventure on Ireland's rail network was short-lived before he was reunited with his worried owner.
Patch boarded a Dublin-bound train at Kilcock station in County Kildare just before 07:00 BST on Wednesday.
Concerned commuters took the pooch to Irish Rail staff when the train arrived in Dublin a short time later.
A picture of the dog whom staff had christened 'Checker' was tweeted through the company's twitter account which has more than 18,000 followers.
Almost 500 retweets followed, and 32 minutes later, Deirdre Anglin contacted the company to say that it was her dog, Patch, who had been missing since the previous afternoon.
A short time later, Deirdre and Patch were reunited at Pearse Station, before returning home on the train.
A spokesperson for Iarnród Éireann said: "We are delighted to have played a part in reuniting Deirdre and Patch.
"Patch seemed to enjoy his adventure, and was a very friendly dog.
"We also want to thank our customers on the train, and our twitter followers - it was a great team effort, and testament to the power of Twitter."
The company uses Twitter extensively, and @irishrail recently won Best Twitter Account for Customer Support at the Irish Social Media Awards.