Libya ex-minister Ghanem died of heart attack in Vienna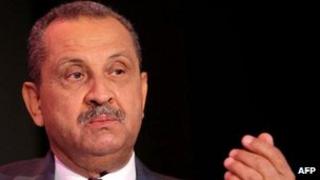 Libya's former Oil Minister Shukri Ghanem died of heart failure before falling into the River Danube in Vienna, Austrian prosecutors say, ruling out foul play.
His body was found floating in the river near his home on 29 April.
He was one of the most powerful men in Libya under the late Muammar Gaddafi, and that fact fuelled speculation that he might have been murdered.
He fled to Austria during the anti-Gaddafi revolt last year.
A spokesman for the Vienna state prosecutor's office, Thomas Vecsey, said there was "no hint, no clue" to suggest foul play before Mr Ghanem fell into the water.
"He died of the heart attack, but at the same time swallowed water," said Mr Vecsey.
"The clothes were intact, so there was no fight before," he added.
However, the investigation remains open because officials want to clarify Mr Ghanem's circumstances in the hours before his death.
Mr Ghanem had also served as prime minister in Libya under Col Gaddafi from 2003 to 2006 and had worked as a consultant for a Vienna-based company.
When he defected in May 2011 he criticised the bloodshed in Libya, saying that the situation had become "unbearable", making his position untenable.
His connection to Vienna dated back to the time he worked at the Organisation of the Petroleum Exporting Countries (Opec) - a forum he later visited regularly as Libyan oil minister.
The Libyan uprising ended in October last year with the killing of Col Gaddafi.