Cork flood victims could benefit from hardship fund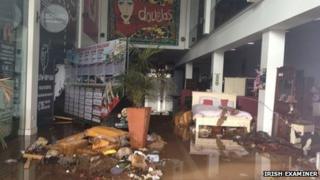 The Irish Minister for Social Protection is to ask the Cabinet to allow flooding victims in Cork access to a 10m euro hardship fund.
Two weeks ago torrential rain flooded many parts of the city and county.
Many people have been unable to return to their homes and businesses.
The fund was set up after last year's flooding in Dublin and Monaghan, but the minister, Joan Burton, is seeking approval to extend the fund to cover the Cork area.
It is intended to provide emergency aid to householders who cannot afford to pay for their essential needs in the immediate aftermath of a flooding incident.
The fund is on top of existing supplementary welfare payments for exceptional and urgent needs.
However, payments under the Humanitarian Assistance Scheme will not amount to full compensation and applicants will be means-tested.
At the same time Northern Ireland also experienced heavy rain. Homes in Belfast were flooded and motorists were forced to abandon their cars.
At one stage, the fire and rescue service were dealing with an emergency call every 20 seconds.
Last week, Northern Ireland's Finance Minister Sammy Wilson approved emergency funding of up to £1,000 for those affected by the flooding in Belfast.