Ireland stimulus package aims to create up to 13,000 jobs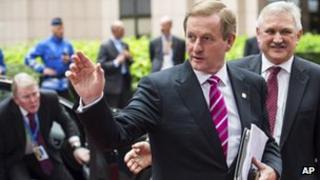 The Irish Government has announced a 2.25bn euro capital investment programme aimed at providing up to 13,000 jobs and stimulating economic growth.
Details of the programme were announced at Government Buildings on Tuesday afternoon.
Taoiseach Enda Kenny said the next year would be "vital for Ireland's recovery."
This money is in addition to the 17bn euro announced in November.
The announcement was made by Taoiseach Enda Kenny, Tánaiste Eamon Gilmore, and Minister for Public Expenditure Brendan Howlin.
The funding for the programme will come from loans from the European Investment Bank, the National Pensions Reserve Fund, domestic bank loans and other potential private investment sources.
Mr Kenny confirmed that the funding is in addition to the 17bn euro infrastructure and Capital Investment Framework published last November, which solely involves exchequer funding.
He said the programme will focus on projects that are ready to proceed in health, education, transport and the justice sectors. He said they would proceed as funds became available and as public private partnership contracts were agreed.
New jobs
Mr Gilmore said that this is designed to increase employment, particularly in the construction sector, whilst also improving Ireland's infrastructure.
"The projects that we are financing will deliver an important boost to communities across the country and are a visible sign of recovery," he said.
Minister Howlin said that previous analysis has indicated that this investment package will generate an additional 13,000 jobs.
The projects will be spread around the country.
The package contains 280m euro for the education sector to provide 12 new or replacement schools, - mainly post-primary.
Dublin Institute of Technology will consolidate its current 39 sites and 36,000 students at Grangegorman.
A Luas tram project, which would stop at the Grangegorman site, is already planned under the existing capital programme.
The health package involves 115m euro for around 20 primary care centres around the country.
An allocation of 850m euro is being made for upgrading the national motorway and primary route network.
Projects include the N17/N18 Gort to Tuam motorway, bypassing Clarinbridge, Claregalway and Tuam.
The M11 Gorey to Enniscorthy project will include a bypass of Enniscorthy.
International confidence
190m euro has been allocated for the justice sector. This will include investment in the State pathology laboratory, and some new garda regional divisional headquarters.
Existing courthouse buildings will be refurbished in Cork, Mullingar and Waterford, while new court buildings will be delivered in Drogheda, Letterkenny, Limerick and Wexford.
It is understood the funding is in addition to the 17bn euro Infrastructure and Capital Investment Framework published last November, which involved solely Exchequer funding.
Of the 2.25bn euro in funding, the first phase of the 1.4bn euro public private partnership programme will come from the EIB, NPRF, domestic banks and other potential private investment sources.
A further 850m euro is expected to be secured over a longer time frame from the sale of state assets and new licensing arrangements for the National Lottery.
Procurement on some of the projects will get under way before the end of the year.
Taioseach Enda Kenny TD said international confidence in Ireland was growing.
"The success of our policies to date means that international confidence in Ireland is improving, our exports are growing and new foreign direct investment is coming in.
"The next year will be a vital one in terms of Ireland's journey of recovery. Yes - it's been tough and it will be tough. With this announcement our national journey continues and improves."