Money printing trial collapses at Dublin's Special Criminal Court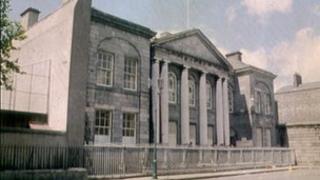 A case against four men accused of having equipment to print fake money in County Laois has collapsed at the Special Criminal Court in Dublin.
On Thursday, the prosecution said it was no longer proceeding with the case.
Belfast native Anthony Sloan had denied the charges alongside three men from County Laois - Andrew Poole, Kevin Flanagan and Liam Delaney.
A charge of membership of an illegal organisation against Mr Sloan, from Ard na Mara in Dundalk, was also dismissed.
The 57 year old had gone on trial at the non-jury court alongside Mr Poole, 43, of Portlaoise, Mr Flanagan, 43, of Borris-in-Ossory, and Mr Delaney, 42, with addresses at Mountrath and Borris-in-Ossory.
They were accused of possessing equipment, including printers and cutting machines, to manufacture counterfeit currency at Ballybrophy, Borris-in-Ossory, on 31 May 2010.
At the Special Criminal Court, the prosecution counsel entered a nolle prosequi - a decision to no longer prosecute the case.
This was accepted by the judge, Mr Justice Paul Butler.
On Wednesday the prosecution had applied to have the trial stopped and the court discharged from the case, following revelations that a deliberate decision had been taken not to disclose information regarding a fifth suspect in the case to the defence.
However, the Special Criminal Court had refused the application to discharge itself from the trial.
Mr Delaney's defence counsel had asked for a complete dismissal, but the judge said the court was satisfied the prosecution could enter a decision not to prosecute at any stage.