Boy dies after accident at Irish National Aquatic Centre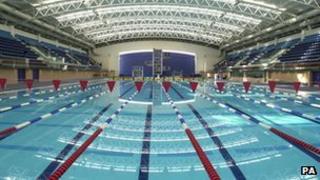 A four-year-old boy has died following an accident at a swimming pool complex in Abbotstown, County Dublin.
It happened at the National Aquatic Centre at about 18.30 BST on Sunday. The child was treated at the scene before being taken to hospital.
He was later pronounced dead at Connolly Hospital in Blanchardstown.
Irish police have launched an investigation and have appealed to anyone who witnesses the accident to contact them.
A spokesman for the National Aquatic Centre extended his sympathy to the boy's family.