Georgian athletes confront Olympics ghosts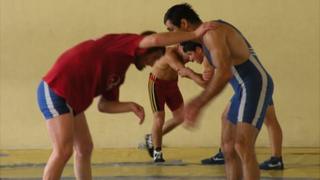 Georgia's athletes have been training hard for the London 2012 Olympics. But the Games bring up some difficult memories. Four years ago, while Georgia's Olympic team were toiling in Beijing, their country waged a short-lived war with its giant neighbour, Russia.
Nugzar Skhireli is watching his wrestling students train at a sports school in the Georgian town of Gori. He has good reason to be proud.
Three freestyle wrestlers from the town - the birthplace of Soviet dictator Joseph Stalin - are competing in the London Olympics.
"I think this time the Georgian team should win more medals. In previous Olympics they were presented in five weight classes but this time there will be a full team, in seven weight classes," he says.
"Gori is the core of the Georgian national team in cadets, youth and adults. Just imagine out of seven weight classes, three are guys from Gori. It is a very good result for such a small town."
Olympics and war
Mr Skhireli has been working as a trainer for 38 years. The Beijing Olympics were one of the most successful of his career.
Georgia won six medals there - three gold and three bronze. Two of those bronze medals went to wrestlers from Gori, Otar Tushishvili and Giorgi Gogshelidze.
Mr Skhireli was not able to go to the Summer Olympics in Beijing. He stayed in Gori, located close to Georgia's breakaway region of South Ossetia - the heart of the conflict between Georgia and Russia in 2008.
"I did not leave Gori during the war because my son was there, in [the South Ossetian capital] Tskhinvali. He is a doctor and he was rescuing wounded," he says.
The fighting erupted on 7 August, one day before the Beijing Olympics opened. Russian troops advanced into Georgia. When they entered Gori, many left the city, but Mr Skhireli stayed.
"I live in the centre of the city. When they entered the city by APC they went to Gori fortress, removed the Georgian flag and hoisted a Russian flag. We were watching all this," he says.
As the freestyle wrestling events were held late in the 2008 Olympics, Otar Tushishvili did not attend the opening in Beijing. When the war started he was at team training in Borjomi. He passed through Gori on 9 August on his way to the airport in Georgia's capital, Tbilisi.
"The houses were burning. That was how Gori met me then," he remembers.
Georgia considered withdrawing from the 2008 Olympics, but in fact they did compete.
For the late-departing wrestling team, it meant leaving their families behind in Georgia.
For shooter Nino Salukvadze, the Games in London will be the seventh Olympics in her career.
Salukvadze won gold and silver medals in the 1988 Summer Olympics, and bronze in the 10m air pistol in 2008.
At the awarding ceremony Salukvadze and Russian competitor Natalia Paderina, who won a silver medal, embraced, raising bunches of flowers over their heads and kissing on the podium.
Their gesture was seen as more than just two medal winners congratulating each other; for many it was a call for peace.
"I have very warm and good relations with Natalia", says Salukvadze.
"Surely, what was happening during those days has not affected our relations and my relations with other Russian sportsmen, among whom I have very good friends."
When the war started Salukvadze was already in Beijing. The phone connection with Georgia, where her family remained, was unreliable.
"When we were leaving for Beijing, there were no preconditions for war. Initially when I heard the war started, I did not believe it," says Salukvadze.
"Especially on such a day - the opening ceremony - when there is a tradition that during the Olympics all wars should be halted. It was a big stress for me that my country was involved in a war on such a day."
The first intention of many Georgians who were in Beijing was to return home as soon as possible. But Salukvadze is sure that it might have cost Georgia an entire generation of athletes.
"It would have been followed by 12 years of disqualification. A whole generation of youth would have been lost, because to take part in the Olympics is a dream of every sportsman," she says.