Brussels and EU leaders tussle over 2013 budget rise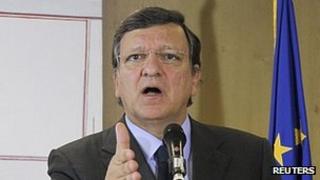 The head of the European Commission has complained to EU governments over their decision to limit next year's EU budget increase to 2.79%.
The Commission wants 6.8%, saying the EU cannot afford to lose 5.2bn euros (£4bn; $6bn) from the budget - the difference between the two figures.
Commission President Jose Manuel Barroso warned in a letter that such a cut would harm Europe's growth efforts, hitting research and small firms.
National budgets have been cut EU-wide.
Brussels has repeatedly urged heavily indebted EU countries to stick to their national budget cuts, so that Europe can get its public finances back onto a sustainable path and revive growth.
The cuts have hit welfare services and public sector jobs in many countries, especially Greece, Spain, Italy, Portugal and the Republic of Ireland.
Mr Barroso acknowledged the tough budget choices made by national governments, but said the 6.8% rise was necessary to pay for existing commitments.
The 2013 budget will be the focus of hard bargaining in September, when the European Parliament joins the negotiations.
Some of the 27 EU members, including the UK, want the budget rise to be even lower than 2.79%. But most EU governments in eastern and southern Europe do not want it reduced further.
In 2012 the EU budget was 129.1bn euros, a 1.9% increase on 2011.
National priorities
The biggest items of spending, accounting for about 80% in total, are agriculture and cohesion funds - aid for Europe's poorer regions. France is especially keen to maintain agriculture spending, while cohesion is a big issue for the ex-communist countries in Eastern Europe.
In his letter to EU government leaders, Mr Barroso said the proposed 6.8% increase "largely stems from legal obligations".
"This is a question of implementing what we have all already agreed. Most of these payments are needed for areas with the greatest potential for boosting growth and competitiveness."
The Council - the grouping of EU governments - says its 2.79% figure aims to avoid unduly burdening public finances at a time of austerity, while also encouraging "growth-enhancing measures".
Under the Council's proposal the biggest increases would be for cohesion spending (8%) and border and migration measures (5%).