Jose Manuel Barroso wants Greece action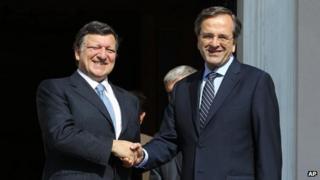 European Commission President Jose Manuel Barroso has told the Greek government to "deliver, deliver, deliver" key structural reforms.
On his first visit to Athens for three years, he said delays had to end and words were not enough: "actions are much more important."
Greece has pledged to reform its public sector and cut tax evasion in return for the next tranche of bailout loans.
Auditors must decide whether Athens has done enough to receive the money.
Mr Barroso's arrival in Athens coincided with a visit by inspectors from the so-called troika of lenders - the EU, IMF and European Central Bank (ECB) - who are due to examine Greece's public finances. They held two hours of talks with Finance Minister Yannis Stournaras.
The head of the ECB, Mario Draghi, said on Thursday that the bank would do "whatever it takes" to support the euro.
But after months of political deadlock and two general elections earlier this year, Greece has been struggling to meet the economic targets it accepted as a condition of its bailouts.
Shrinking economy
Crisis jargon buster
Use the dropdown for easy-to-understand explanations of key financial terms:
AAA-rating
The best credit rating that can be given to a borrower's debts, indicating that the risk of borrowing defaulting is minuscule.
Greece was due to give the troika details of a plan to reduce public spending over the next two years by 11.7bn euros, reports said.
The European Commission says the country's financing needs will be met in August but a decision on further payments will have to be made in early September.
After talks with Greek PM Antonis Samaras, Mr Barroso said he had been assured that the new coalition government would "speed up" reforms such as privatisation and changes to public administration.
"To maintain the trust of European and international partners the delays must end," he said.
One of Greece's biggest lenders, the IMF, has said talks on its ongoing austerity measures will run into September.
IMF spokesman David Hawley said in Washington that it was "premature to talk about outcomes". "Assessing debt sustainability is always part of IMF discussions with authorities in this or any other country when there is a programme relationship."
Without sufficient progress, Athens may not receive the final part of its bailout, worth 31.5bn euros ($38bn; £24.5bn).
Earlier in the week, Prime Minister Antonis Samaras said Greece would suffer a much deeper recession than thought this year.
He expects the economy to shrink by 7%, greater than the 5% forecast by the crisis-hit country's central bank.
Mr Samaras said Greece would not return to growth until 2014 and he is expected to ask for more time to repay its loans.