236-year-old bronze bell stolen from former church in County Kerry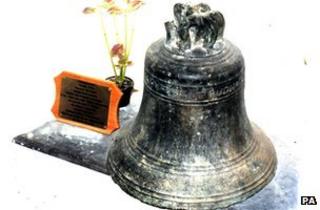 A bronze bell which dates backs to the 18th century and weighs up to 180kg (28 st) has been stolen from a former church in Castleisland, County Kerry.
It was taken from the Ivy Leaf Arts Centre, which is housed in converted Church of Ireland building.
Staff have said they fear the 236-year-old bell was targeted by metal thieves who will melt it down for scrap.
It is thought that a number of people were involved in the theft, due to the weight of the bell.
'Priceless'
The gang would have had to take it down from its mount inside the building, where it was positioned about four metres off the ground.
The centre manager, Jerome Stack, said the bell was "irreplaceable".
It was cast in Gloucestershire, England, in 1776 by bell founder Thomas Rudhall and is one of about 16 such bells remaining in the world.
"It was a focal point in the centre, now there's a big gaping hole there," Mr Stack told the Press Association.
The bell was taken sometime between late last Wednesday night and early Thursday morning but arts centre staff have since issued an appeal to scrap metal dealers.
Mr Stack said they had visited all the dealers in the area to make inquiries, and he appealed to anyone who may be offered the item for sale to contact Irish police.
"I imagine on one hand some would say it only has scrap value, but on the other hand it is priceless," he said.