French Ramadan suspension: Mayor rows back on decision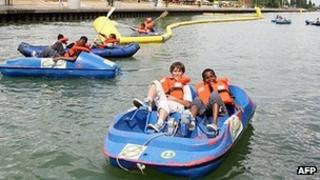 The mayor of the French town who had suspended four instructors at a children's summer camp for observing the Ramadan fast has said he will reinstate them to avoid controversy.
The four are considering taking the matter to court.
The mayor of Gennevilliers outside Paris said their refusal to eat or drink amounted to a breach of contract.
The four were suspended on 20 July, leading to Muslim leaders later denouncing the move.
The four instructors, who were employed for the month of July, had to leave the summer camp in the south-west of France the day after a visit by an inspector who noticed they were not eating - although they remained on full pay till the end of the month.
Equal rights campaigners say fasting is a matter of individual freedom.
Gennevilliers Mayor Jacques Bourgoin defended the decision to remove the four employees from the camp.
"They did not respect the terms of their contract in a way that could have endangered the physical safety of the children they were responsible for," he said in a statement.
The Gennevilliers town hall later issued a statement saying that in order to avoid increasing tensions, it would drop the clause from contracts for workers at the camp that obliged them to eat lunch for the month of August.
The terms of the instructors' contract was changed a few years ago after a child was seriously injured in a road accident while travelling in a vehicle driven by a female instructor who was not eating.
The BBC's Christian Fraser in Paris reports that some companies have found a decline in productivity during Ramadan, but in most cases employees are quite capable of performing their work.
Mr Bourgoin, a communist mayor, added he hoped a debate could be had over the matter in September.