Russian soldiers killed in Chechen 'suicide' blast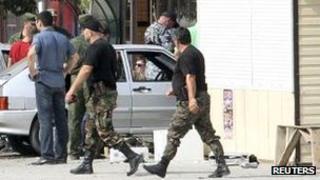 At least three Russian soldiers have been killed and other people injured in a blast in Chechnya's capital, Grozny.
Local officials said it was a suicide bombing, launched when soldiers left their vehicle.
Differing reports said three or four soldiers were killed, and that there were either one or two suicide attackers.
Earlier, Russian officials said the blast was an accident during a mine-clearing operation.
Russia fought two wars in Chechnya in the 1990s. The latter was only declared over by Russia in 2009.
The unrest has since spread to the neighbouring Russian republics of Dagestan and Ingushetia.
"Measures are being taken to identify terrorists and find their possible accomplices," Chechnya's interior ministry said.
"The situation in the city remains calm."
The Russian authorities have been fighting insurgents in the North Caucasus republic since the collapse of the Soviet Union in 1991.
Chechen separatists and Russian forces waged two wars, beginning in 1994 and again in 1999.
Violence continues in sporadic form, with the unrest spreading to other Russian republics in the region, especially Dagestan. Increasingly, the insurgency has been carried out by Islamists.