'Angel dust' discovered on farm in County Monaghan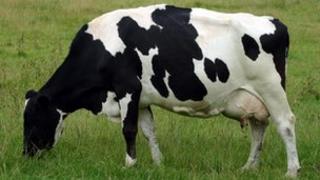 An illegal growth hormone, commonly known as angel dust, has been detected on a farm in the Republic of Ireland for the first time since 1999.
The Irish Department of Agriculture, Food and the Marine has confirmed that two cattle at a farm in County Monaghan tested positive for Clenbuterol.
A small quantity of the substance was also found on the farm, which was restricted during the investigation.
The department said the evidence suggested it was an "isolated case".
It also confirmed that a file on the case has been sent to the director of public prosecutions.
The animals were tested following a fuel laundering investigation at the farm.
Surveillance
Clenbuterol is administered to livestock as a feed additive and, according to the British Society of Animal Science, can have a "legitimate role in veterinary medicine".
However, it is not licensed in the EU for growth promotion.
The department said that following the County Monaghan discovery it has "heightened its surveillance", and introduced additional testing at slaughter plants, but no further cases have been detected.
Details of the discovery were revealed in the department's annual food testing results for 2011, known as the National Residue Control Plan (NCRP).
Under the plan, the Food Safety Authority of Ireland (FSAI) carried out over 20,000 tests on food of animal origin.
'Responsible approach'
Less than 1% (0.2%) of the samples taken tested positive and the department said these "related mainly to residues of authorised medicines" and did not require food to be recalled from the market.
In a statement, the department said the results showed "a continuation of the trend over a number of years of a general absence of residues in Irish food products" and reflected the "responsible approach adopted by the vast majority of farmers".
Clenbuterol has also been used by some athletes as a performance-enhancing drug.
The Spanish cyclist Alberto Contador, was stripped of his 2010 Tour de France title after testing positive for the banned substance.