Armed gang robs cargo plane at Marseille airport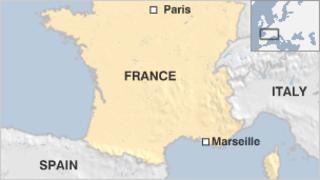 Armed robbers have held up a cargo plane at Marseille airport in the south of France, after crashing through a wire fence in a car, French media say.
The gang, said by La Provence newspaper to be heavily armed and riding in a stolen BMW, struck at around 03:00 (01:00 GMT) as the plane was unloading.
It seems they were expecting to find sacks of cash on the plane, just landed from Paris, but were unsuccessful.
In the event, they made off with the two pilots' shoulder bags.
According to La Provence, the gang was five-strong.
There was no suggestion that anyone was injured during the robbery, which was also reported by the RTL television channel.