Ireland's most successful Olympics for almost 60 years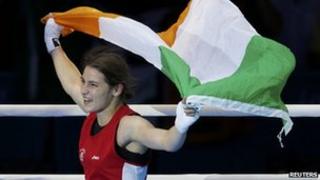 Team Ireland has had its most successful Olympics for almost 60 years in terms of total medals won.
The members will bring home five medals, including one gold, one silver and three bronze.
It is the best result since the 1956 games held in Melbourne when Ireland had the exact same final medals.
However, the 1996 Olympic games in Atlanta were a personal triumph for Michelle Smith de Bruin, who won three gold medals and a bronze.
Katie Taylor won Ireland's first gold medal at London 2012 on Thursday.
The 26-year-old, from Bray, County Wicklow, who was Ireland's flag-bearer at the opening ceremony, beat Russia's Sofya Ochigava in the women's lightweight boxing final.
Her win was also significant as these were the first Olympic Games which allowed women to compete in the boxing ring.
The support for the boxer was evident when London 2012 officials declared the roar of the crowd at Taylor's first bout as louder than a jumbo jet taking off, with a 113.7 decibel reading.
After her Olympic victory, the former world champion boxer Barry McGuigan hugged Taylor as she came out of the ring and called her "a legend".
McGuigan also said the thousands of Irish supporters inside the arena had been "incredible" and joked that there was no-one left back in Ireland.
Irish fans
The Republic of Ireland's international goalkeeper, Shay Given, described her as "a true Irish hero", while Bolton Wanderers footballer Fabrice Muamba tweeted: "Laying down in my hospital bed, watching Katie Taylor, She is got the best supporter. The Irish fans are unreal."
Twenty-three-year-old boxer, John Joe Nevin, from Mullingar, County Westmeath, won Ireland's only Olympic silver medal.
He missed out on the gold after being defeated by Team GB's Luke Campbell in the bantamweight final.
Belfast boxer Paddy Barnes had to settle for bronze after losing to his Chinese rival Zou Shiming in the light-flyweight semi-final on Friday.
However, the 25-year-old is the first Irish boxer to win a medal at consecutive Olympic Games.
He also won bronze in Beijing, where he was defeated by the same fighter at the semi-final stage.
Barnes and Nevin were not the only Irish boxers who achieved a place on the Olympic podium.
Twenty-year-old Michael Conlan fought for his place in the flyweight final on Friday evening.
The Belfast man lost out to Cuban fighter Robeisy Ramirez, but was also successful in achieving a bronze medal.
No homecoming
Northern Ireland sports minister Caral Ni Chuilin said there was "plenty to celebrate".
"Our boxers have once again shone on the global stage - proving to be ambassadors for their sport, their communities and themselves," she said.
Although the majority of medals have been won by boxers, show jumper Cian O'Connor collected Ireland's first medal of the games - a bronze - on Wednesday.
Ireland's Rob Heffernan also finished fourth in the Men's 50km Walk event.
Many members of Team Ireland are due to return to Dublin airport at lunchtime on Monday, however, there will be no official event to mark their homecoming.
Despite efforts made to recognise their success, the Olympic Council of Ireland has informed Dublin City Council that most of the athletes were anxious to get home as soon as they could.