Diamond ring ends up in Mayo mountain rescue collection bucket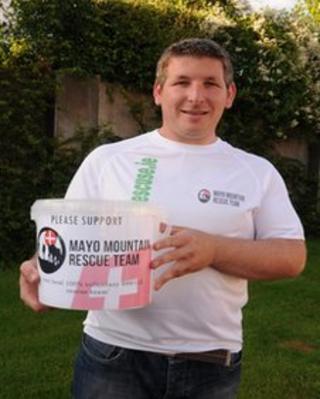 The last thing a mountain rescue group expected to find when members emptied the takings of a collection bucket was an engagement ring.
Volunteers from Mayo Mountain Rescue had spent last Saturday on a fundraising drive in Westport, County Mayo.
When they began to count the contents on Sunday, the surprise discovery of a diamond ring was made.
Robert Hunt, fund raising officer with the rescue team, found the ring and said although it was a "nice find, it didn't belong to me".
He said nothing like this had ever turned up in the collection buckets before.
Robert said although there had been plenty of enquiries, nobody's description had so far, matched that of the ring.
Shane McGuire from the Mayo Mountain Rescue Team said it was worth several thousand euros.
"We brought it to a jeweller and the jeweller said it is quite valuable and quite old. It's a single solitaire," he said.
Misplaced
"I've had 25-30 calls already and I think Robert has had the same, and I think the police in Westport have had similar numbers, so we really want the ring to be rescued and to be united with its owner."
So does he think the ring fell-off by accident or was deliberately placed in the bucket?
"I think it fell in by mistake, some cynic said it was probably divorce west of Ireland style," he added.
The Mayo Mountain Rescue team are hoping the rightful owner will be found soon.
"What we're hoping to do, because we've had so many phone calls, with agreement with the police, is to put it up on our own website this evening - a picture of it - because people are giving me descriptions over the phone and I'm giving them descriptions back and I'm not sure if we're talking about the same ring.
"We really genuinely want to unite the ring with its owner because it does appear quite valuable."