Man survives six-day crevasse ordeal in Austrian Alps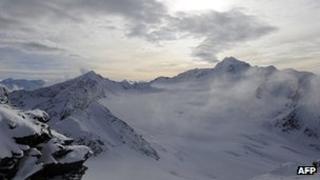 A 70-year-old German climber has been rescued from a crevasse in the Austrian Alps, where he says he was stuck for six days.
Austrian media say the Bavarian man had only minor injuries but was suffering from exhaustion and cold after his ordeal on the Schrankogel mountain.
The man's cries for help were heard by three other German climbers, who then alerted rescuers.
He had plunged about 20m (66ft), some 3,000m up in the mountains.
He did not have crampons for crossing the glacier but was otherwise well-equipped and was carrying enough water to survive.
The man, not yet named, is now recovering in hospital in Innsbruck and has not been questioned in detail about his ordeal. He is thought to have fallen when a patch of snow on the ice gave way.
The crevasse sheltered him from the wind but it was cold and wet.