Ryanair emergency landings 'followed procedure'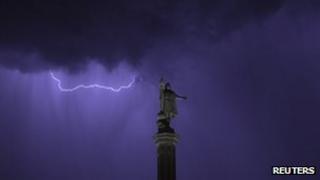 Low-cost airline Ryanair says it was following procedure when three of its pilots requested emergency landings in the Spanish city of Valencia.
The Spanish authorities opened an investigation into the airline following the incidents in July.
The pilots told aviation officials that they needed to land immediately because they were running low on fuel.
They had been diverted from Madrid due to bad weather, and had been circling above Valencia for about an hour.
A Ryanair spokesman said the company had "no problem" with the investigation and would "cooperate fully".
Thunderstorms
The pilots had been asked to circle above Valencia because thunderstorms in Madrid prevented them form landing there as planned on July 26.
They were asked to join a queue, but were given priority when the pilots contacted air traffic control.
Although they were technically called "emergency landings", the planes were following procedure and passengers were not in danger, Ryanair said.
After 50 minutes, 68 minutes and 69 minutes respectively, the pilots had asked to land as they were reaching their reserve fuel levels, spokesman Stephen McNamara said.
All three planes had followed guidelines set out by Boeing and the European Aviation Safety Agency, and had landed with 30 minutes of reserve fuel left, he added.
He said the company then reported the incidents to the Spanish and Irish aviation authorities, prompting the investigation.