French footballers to stand trial for soliciting minor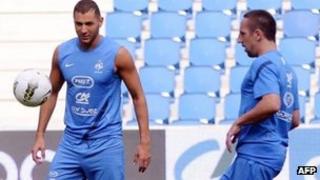 Two French football stars, Franck Ribery and Karim Benzema, are to stand trial over allegations that they solicited an under-age prostitute.
An investigating magistrate in Paris ruled that they should be tried along with seven others over the affair, which broke before the 2010 World Cup.
Both deny the claims and the girl involved, Zahia Dehar, has said neither player knew she was 16 at the time.
Ribery's team, Germany's Bayern Munich, has given the footballer its backing.
His lawyer, Sophie Bottai, told AFP news agency she was astonished by the magistrate's decision, after a previous judge had said there was no case to answer against the two French internationals.
Some of those facing trial have been charged with "aggravated pimping".
Soliciting sex with an under-age prostitute is punishable in France by up to three years in prison and a maximum fine of 45,000 euros (£35,000; $55,000).
Both Ribery and Benzema are expected to play when France takes on Uruguay in a friendly in the French city of Le Havre on Wednesday evening - the team's first match under new coach Didier Deschamps.
'Unfair'
The Zahia affair emerged two years ago as police investigated claims that a Paris nightclub had given access to under-age prostitutes. The allegations date back to 2008 and 2009.
Ms Bottai said the news that her client would be put on trial was "as surprising as it is unfair".
"But I remain confident about the outcome of the process," she added.
Matthias Sammer, director of Bayern Munich, told German sports news agency SID that they were aware of the situation.
"We will tell him that we stand by him and that he will get our best support," he said.
Representing Real Madrid striker Karim Benzema, lawyer Sylvain Cormier said his client was innocent and he would "give his explanation before the tribunal".
France's football coach said the matter was in judicial hands and did not affect the players' role on the football pitch or in the national team.