Mosque attack in Russia's Dagestan leaves eight injured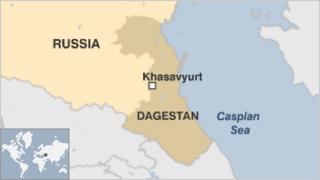 Two masked attackers have opened fire in a mosque in Russia's troubled North Caucasus region of Dagestan, wounding eight people, local officials say.
Most of the injured in the town of Khasavyurt suffered gunshots to the chest and stomach.
Hours later, an explosive device went off in the same mosque, reportedly injuring more people.
The attack comes as Russia's Muslims are preparing to celebrate the end of the fasting month of Ramadan.
About 70 worshippers were in the mosque when the gunmen opened fire on Saturday evening.
Some reports say the attackers planted two explosive devices, one of which failed to go off.
Experts are now trying to defuse the second device.
Dagestan, a predominantly Muslim, multi-ethnic republic which borders Chechnya, has seen some of the worst militant violence in the North Caucasus in recent years.