Dom Mintoff: Your memories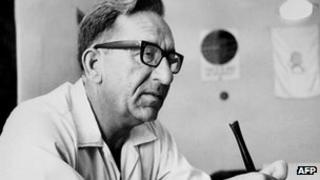 The former Maltese Prime Minister, Dom Mintoff, has died aged 96.
Known for his fiery rhetoric, he was a key figure in his country's politics for almost half a century, becoming a supporter of its independence from Britain and overseeing its switch to a republic, and was involved in a protracted struggle to reduce the influence of the Catholic Church in Malta.
Here, BBC News website readers share their memories of a man who became the youngest prime minister in the Commonwealth.
Paul Debono, Malta
The former Prime minister Mr Dom Mintoff was my friend. I have known him for 15 years. When I first met him I was struck by his candour and his warmth. We met outside his residence in Delimara in Malta.
I summoned up the courage to approach his security guards and ask them if I could have an audience with him. I explained how much I admired him. To my surprise they agreed to let me see him.
I discovered we shared a passion for swimming. Mr Mintoff invited to me lunch, and that gave birth to a friendship that has lasted for more than a decade.
Mr Mintoff made a point of making himself accessible to ordinary people. In public he always presented himself as a statesman but he was not distant or aloof. He seemed to possess boundless energy.
Though he had retired from politics, he made a point of reading the newspapers every day. He wanted to know what was happening.
I would visit his compound at least three or four times a week, sometimes accompanied by my daughter. She would play with his dog, a Great Dane, while we shared jokes.
He would always say that some day our electricity bills would become as expensive as a bottle of whisky. He was right.
Film-maker Pierre Ellul, Malta
I recently completed a documentary about Dom Mintoff's controversial and turbulent political career. I began researching the project in 2006. It has taken six years to get the film financed and screened at cinemas nationwide.
The film charts Mr Mintoff's early successes, such as his social-welfare reforms, his championing of the working classes and his Herculean fight against the then conservative Catholic Church.
The documentary also touches on Mr Mintoff's links with the Gadaffi regime and his friendships with North Korea's Kim Il-Sung and China's Mao Zedong, as well as the political unrest that marked the late 1970s and early 1980s.
I spoke to Mr Mintoff in 2006. We had a series of phone conversations but his failing health prevented us from taking it any further. I think I was 10 years too late to get a camera interview. Not wishing to present him as a frail figure and after conferring with his family, I decided to try another approach.
I continued my research by speaking to people who worked alongside Mr Mintoff, including political opponents, historians and sociologists. The biggest challenge was persuading people to talk about the Mintoff period.
He was a divisive character. He inspired admiration and fear in equal measure. People are still afraid to say anything which might tarnish his image.
When the film was completed I organised a screening for Mr Mintoff's family members. Illness prevented him from attending.
The family were happy with the first part of the film, but they were critical of its conclusion.
The family threatened to launch legal proceedings, and they have reserved the right to sue, but so far the films screening has not been blocked. It has now concluded its run at the box office in Malta.
John Stevenson, North Shields, UK
I served as a Royal Navy medical officer with 41 Commando Royal Marines. I was stationed at St Andrew's barracks in Malta in 1973, a year before Malta won its independence from Britain.
I met Mr Mintoff when a school bus crashed . The accident happened near my barracks.
When I arrived at the scene the students, all girls, were hysterical. There were lots of injuries from the wreck, from broken bones and bruises to scrapes.
Dom Mintoff's black limousine passed by. He ordered his driver to stop. I believe he was on his way to a political rally. He got out of his car and began to comfort the occupants of the bus.
He also exchanged heated words with the driver. I presume he thought the driver was at fault and caused the crash. He was distressed to see all the injured children.
Mr Mintoff stayed at the scene until all injured students were transported to hospital. He thanked me for providing medical aid. A few days later I received a handwritten letter from him reiterating those sentiments.
Shaun Camilleri, Malta
Mr Mintoff changed Malta. He introduced employment reforms which gave workers pensions, which meant they did not have to work until [they] collapsed.
He fought the Roman Catholic Church and was a strong proponent of the rights of women to go out and work and vote.
Before his radical reforms Malta was a third-world country with children running in the streets without shoes and tattered clothes, and no schooling unless you had money.
Mr Mintoff built links with other nations who were prepared to invest in Malta and help our economy to flourish.
So yes, he was friendly with Gaddafi, the Chinese, Italians and anyone who would give him money. He was controversial but he lived during the cold-war era, where you could pit politicians against each other to get what you needed.
He was not perfect but he changed the Maltese mindset and restored our national pride.
More of your comments
Dom Mintoff's leadership enabled the Maltese to successfully make the transition from the colonial to the post-colonial period. He eradicated poverty, created the Welfare State and made the name of Malta a respected one among the international community. He brought Malta into the modern age, his policies served as the catalysts of change and progress, making it possible for Malta to become what it is today: a peaceful, progressive and modern European Union member. Desmond Zammit Marmara, Balzan, Malta
Mr Mintoff was the saviour for the Maltese people. He freed us from the British naval bases without a drop of blood shed and turned Malta from depending on handouts from the British into a prosperous country. Mr Mintoff was one of the first leaders in the world to enter into negotiation for bilateral relations with the Chinese government. He fought the Catholic Church on all fronts for the good of the Maltese people and won. Raymond, Melbourne, Australia
Mr Mintoff was a great man of intellect. He had an appreciation not only for the inner workings of the political system but he also understood the concerns of the ordinary man in the street. He understood how families were struggling to balance their incomes and his policies catered for their needs. He had an unparalleled insight. Domenic Garcia, Zabbar, Malta