Chile profile - Media
20 September 2013

From the section

Europe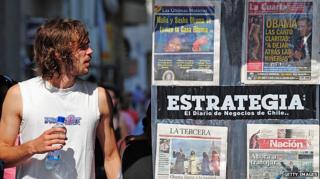 Chile's national and local terrestrial TV channels operate alongside extensive cable TV networks, which carry many US and international stations.
Radio is an important source of news; there are hundreds of stations, most of them commercial. Spanish group Prisa is a major player in the market.
The constitution guarantees freedom of speech and of the media, and this is generally respected by the authorities. The media maintain their independence, criticise the government and cover sensitive issues.
Chile ranked 80th out of 179 countries in Reporters Without Borders' 2012 press freedom index. The watchdog fretted about the concentration of press and radio ownership in "very few" hands and cited problems in reporting on highly sensitive topics.
By 2012, 61% of Chileans were online (ITU). There are no restrictions on access, says Freedom House.
The press/online
Television
Radio