Galliano stripped of French Legion d'Honneur award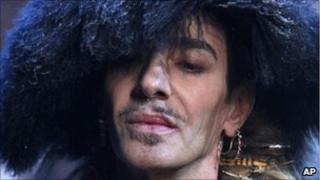 British fashion designer John Galliano, convicted last year of making anti-Semitic remarks, has been stripped of France's prestigious Legion d'Honneur.
The decision was published in a decree signed by French President Francois Hollande and published in the country's official journal.
Galliano lost his job as artistic director of fashion house Dior over the comments made in a Paris bar.
He blamed his outbursts on addictions to drugs and alcohol.
Galliano, who had been charged with "public insults based on origin, religious affiliation, race or ethnicity", was given suspended fines totalling 6,000 euros (£4,800; $7,500) over the incident.
The fines related to incidents on the evenings of 8 October 2010 and 24 February 2011 at La Perle cafe in the Marais district of the capital.
During the trial, the court heard how, during the February incident, Galliano harangued museum curator Geraldine Bloch about being Jewish and hurled racist insults at her friend - of South Asian origin - before police came to break up the argument.
In a third incident, the court saw an amateur video of Galliano, while drunk, declaring a love for Hitler.
Since the conviction, Galliano has kept a low profile. Media reports suggest he is considering moving to Los Angeles.
The Legion d'Honneur, France's highest award, is given to those who have served France or the ideals it upholds.
Mr Galliano took over the creative helm of Dior in 1996 and won British Fashion Designer of the Year on four occasions.